The rise of 'cli-fi': stories to save the world
Can novelists spur us to action in ways that scientists can't?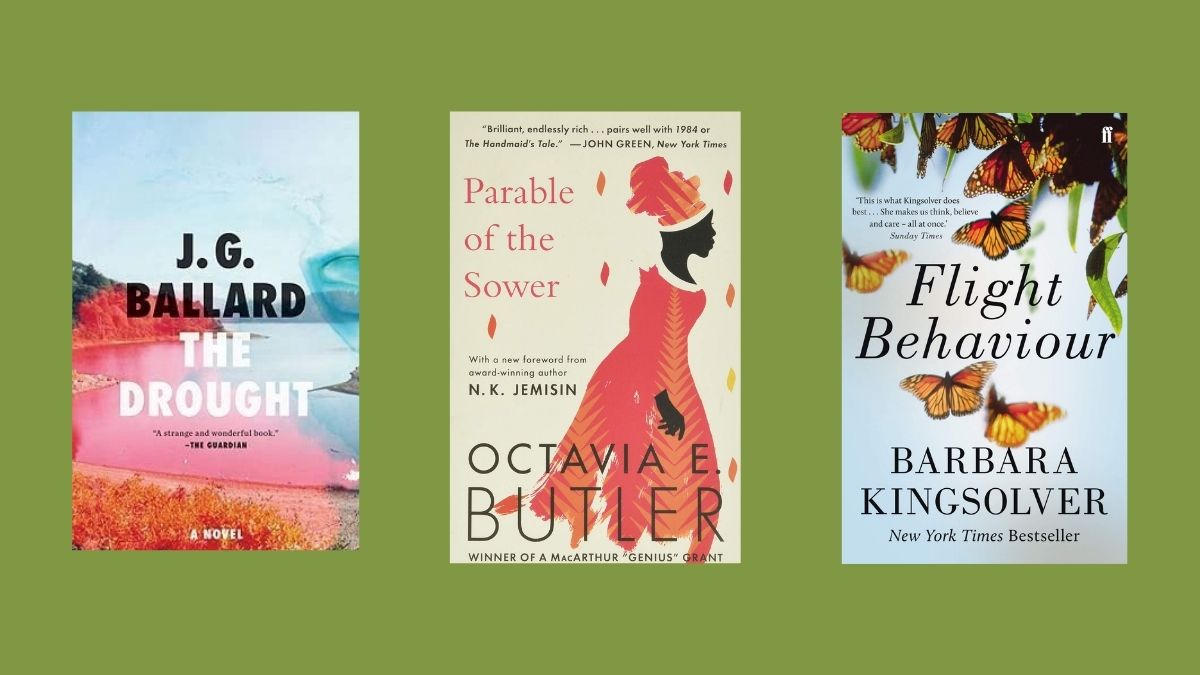 More than a decade before An Inconvenient Truth, Octavia Butler wrote Parable of the Sower (1993) – a remarkably prescient novel that foresaw wildfires, water scarcity and waves of migration. Set in 2024, the novel tells the story of a teenage girl who flees her disintegrating community in a United States riven by climate change and social injustice. The book is a classic in the emerging genre of climate fiction – or 'cli-fi' as it is known.
Although writers, such as J.G. Ballard, started to portray climate changes caused by humans from the 1960s, the genre has only taken off in recent years. In his 2016 book The Great Derangement: Climate Change and the Unthinkable, the Indian writer Amitav Ghosh asked why so few novelists were tackling the subject. Ghosh argued that literary journals did not take climate change novels seriously and regarded them in the same category as books about aliens and space travel and that this discouraged authors from writing them.
He suggested that when future generations fail to find literary representations of climate change from this era they will "conclude that ours was a time when most forms of art and literature were drawn into the modes of concealment that prevented people from recognizing the realities of their plight". He added: "Quite possibly, then, this era, which so congratulates itself on its self-awareness, will come to be known as the time of the Great Derangement."
Writers answered Ghosh's challenge producing a surge of climate novels that gained momentum when The Overstory (2018) by Richard Powers – which interweaves stories of trees with stories of people – won the 2019 Pulitzer Prize for Fiction and was nominated for the Booker Prize definitively ending the idea that climate fiction was a non-literary niche.
Since then, novelists, including Ghosh himself, have explored climate change from myriad perspectives: in The Wall (2019), John Lanchester imagines a future in which young adults stand watch on a huge coastal wall around Britain bitterly resentful of older generations; in Migrations (2020), Charlotte McConaghy portrays a woman tracing the world's last migrating birds; in Bewilderment (2021), Richard Powers explores how climate change can frighten and anger children; and, in Leave the World Behind (2020), Rumaan Alam describes a flock of flamingos landing in a suburban swimming pool in Long Island, New York – an unsettling sign of a world out of kilter.
"Somehow while we had all been busy, while we had been doing those small things which added up to living, the future had slipped into the present."
The High House, Jessie Greengrass
Experts have debated why it took humanity so long to accept climate change. The latest IPCC climate report, which projects five scenarios based on varying levels of emissions and was described by the UN as "code red for humanity", is written nearly entirely in bullet points, runs to 3,949 pages and is not an easy read. Climate change is complex, global and involves timescales longer than human lifespans. Reading about it can make people feel helpless and this can lead to switch-off.
Novelists, by contrast, explore climate change by zooming in on individual protagonists. This narrows the topic to the scale of a human life aiding sense-making and emotional processing. If climate science is the pilot's manual, climate fiction is the flight simulator: it transports us into future scenarios and invites us to rehearse how we would cope with them.
Stories have always had the power to activate empathy, increase insight and promote action: Uncle Tom's Cabin by Harriet Beecher Stowe shifted public opinion about slavery; the 1983 film The Day After convinced America to alter its position on nuclear weapons; Modern Family changed attitudes to gay marriage; and, last year (perhaps worryingly) former health secretary Matt Hancock revealed the movie Contagion influenced his vaccine policy.
Stories function to help us achieve the change necessary to our survival as a species. Thinkers since Aristotle have observed a universal pattern underlying good stories. At the start of a story, the hero is confronted with a challenge. Wary of change (as we all tend to be), she procrastinates but then commits to the quest overcoming many obstacles before emerging transformed. In this way, stories explore the conflict between our need for change and our fear of change – the human condition – helping us move from fear and procrastination to acceptance and problem-solving.
Humanity is already shifting from procrastination to problem-solving on climate change but perhaps the new wave of climate novels will spur us on the journey to net zero.
21 NOVELS ABOUT CLIMATE CHANGE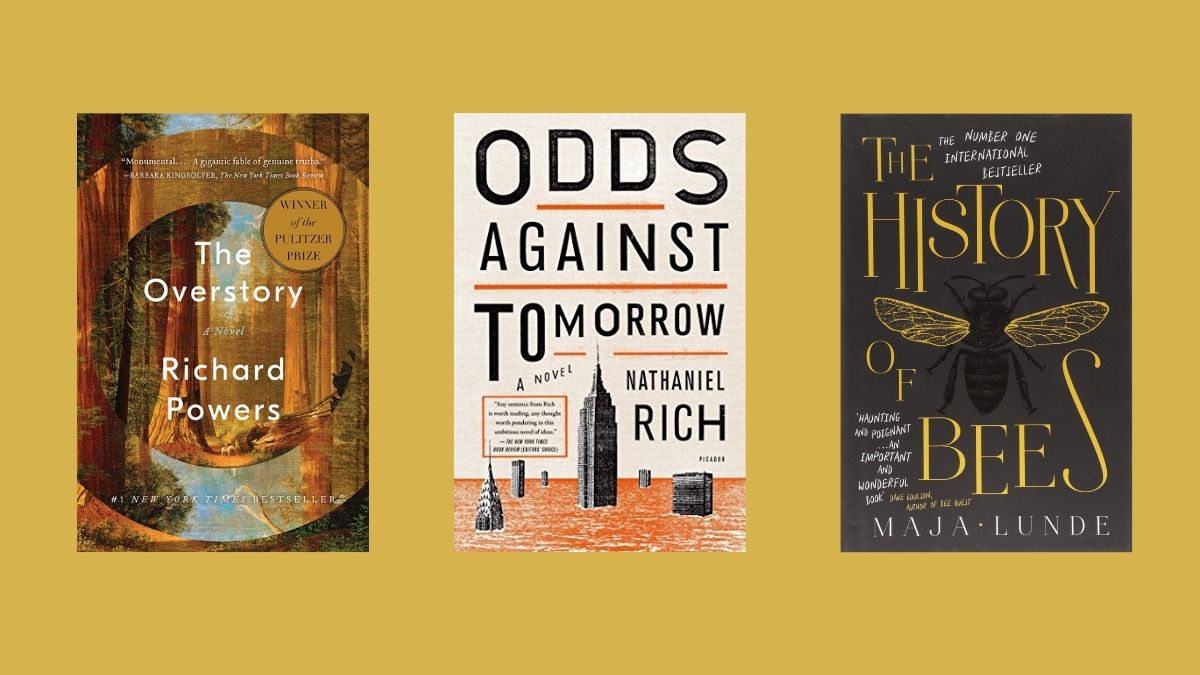 The Drowned World
J.G. Ballard, 1962
Ballard's pioneering work of climate fiction, set in 2045, in a world left flooded and  uninhabitable by global warming.
Parable of the Sower
Octavia E. Butler, 1993
Set in 2024, this classic tells the story of a teenage girl in a United States riven by climate change and social injustice.
Flight Behavior
Barbara Kingsolver, 2012
Climate change causes a flock of Monarch butterflies to winter in the Appalachian mountains upturning a young mother's life.
Odds Against Tomorrow
Nathaniel Rich, 2014
The worst fears of a catastrophe-obsessed mathematician are realized when a worst-case scenario strikes New York.
The Water Knife
Paolo Bacigalupi, 2015
A hired gun and fixer in the water wars between parched southern states in a heated US where the rich live in climate-controlled enclaves.
Clade
James Bradley, 2015
A chronicle of several generations of one family that unfolds against the backdrop of environmental breakdown.
The History of Bees
Maja Lunde, 2015
Explores the threat of ecological disaster through the stories of three generations of beekeepers from the past, present and future.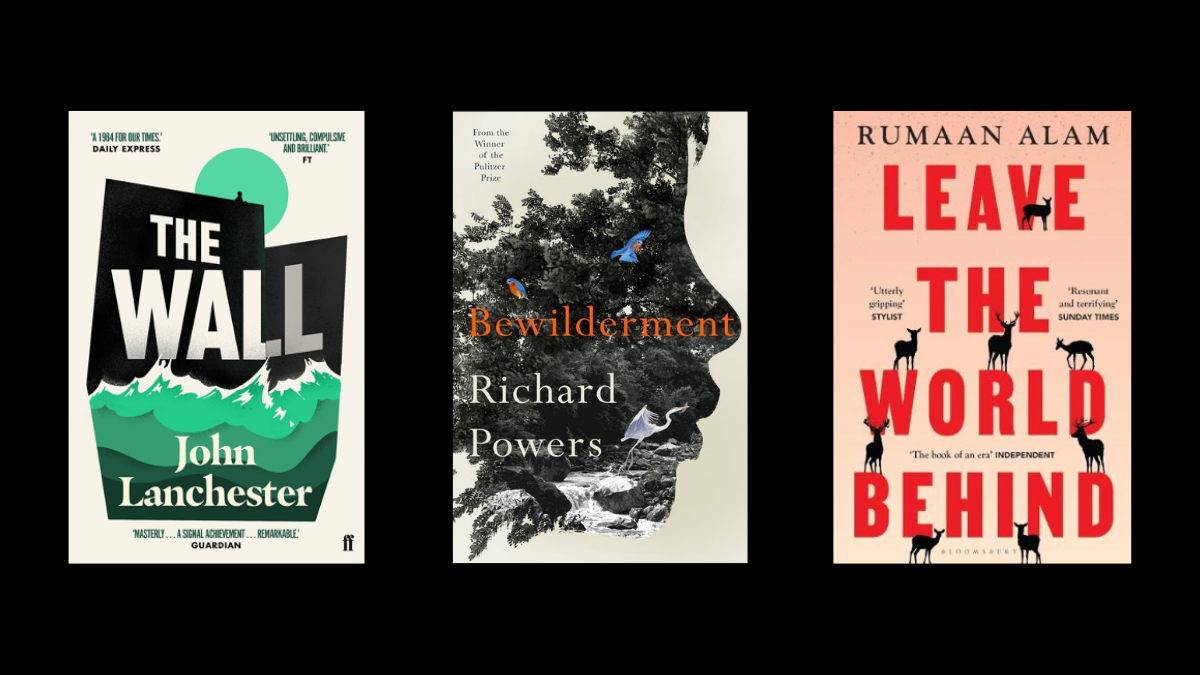 American War
Omar El Akkad, 2017
Drawing on his own experience as a war correspondent, Omar El Akkad portrays a second US civil war triggered by the northern states outlawing fossil fuels.
New York 2140
Kim Stanley Robinson, 2017
Explores climate change and capitalism through the eyes of the inhabitants of one building in a flooded Manhattan where water taxis whizz between skyscrapers.
The Overstory
Richard Powers, 2018
Interweaves the stories of five trees with the stories of nine people contrasting the shortness of human lives with the longevity of both trees and climate change.
The Wall
John Lanchester, 2019
Set in the near future in Britain where the young must take turns defending the country's vast coastal wall from 'others' fleeing a flooded world.
Gun Island
Amitav Ghosh, 2019
A dealer of rare books sets out on an extraordinary journey from India to Los Angeles and Venice in a world of displacement.
Leave the World Behind
Rumaan Alam, 2020
A thriller about two families forced together on a long weekend in the country as a mysterious crisis unfolds in the city.
Weather
Jenny Offill, 20200
A librarian is hired to answer emails from progressives worried about climate change and conservatives worried about the collapse of Western civilization.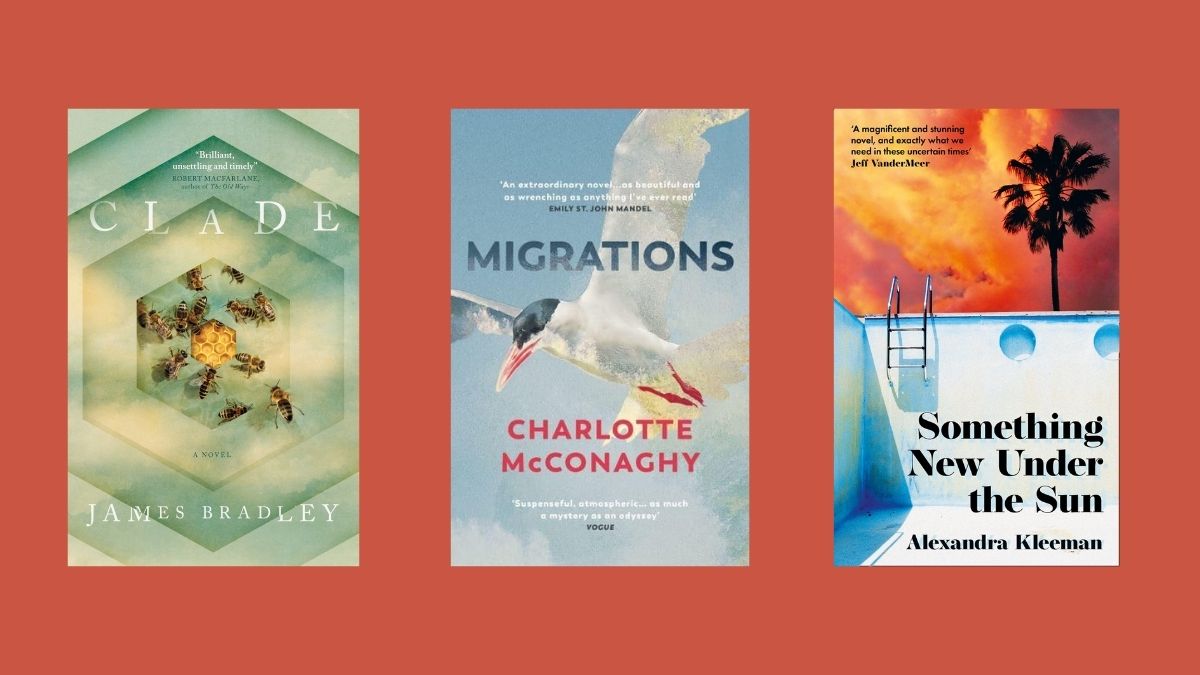 Migrations
Charlotte McConaghy, 2020
A woman follows what may be the endangered Arctic tern's last migration from Greenland to Antarctica.
The New Wilderness
Diana Cook, 2020
A mother agrees to live in the 'new wilderness' to save her five-year-old daughter whose lungs are ravaged by pollution.
The Stranding
Kate Sawyer, 2021
A woman and a stranger hide in the mouth of a beached whale to survive a catastrophic event.
Hummingbird Salamander
Jeff VanderMeer, 2021
A thriller about climate change, identity politics, conspiracy theories – and a taxidermied salamander.
Bewilderment
Richard Powers, 2021
A windowed father takes his son on flights of imagination to other planets to soothe his fear and anger about climate change.
The High House
Jessie Greengrass, 2021
A scientist turns her house into an ark as she prepares for the onset of a slow-moving catastrophe
Something New Under the Sun
Alexandra Kleeman, 2021
A writer travels to Hollywood to see his novel made into a movie in a mysterious near-future dystopia.
DISCOVER MORE

Burning Worlds (climate fiction newsletter)
The Cli-Fi Report (climate fiction newsletter)
The books listed in this article include affiliate links. When you buy from bookshop.org you are supporting independent booksellers.